Back to All Blogs
The foundation of digital performance: Flexential cross connects
The key to low latency, security, and high-performance data exchange.
As the digital economy evolves, there are increasingly more options for connecting to the thousands of providers inside a data center ecosystem. At the foundation of this digital landscape are cross connects. Flexential provides the FlexAnywhere™ platform to connect your infrastructure to the digital world. Let's discuss how to facilitate these connections from a Layer 1 or physical standpoint.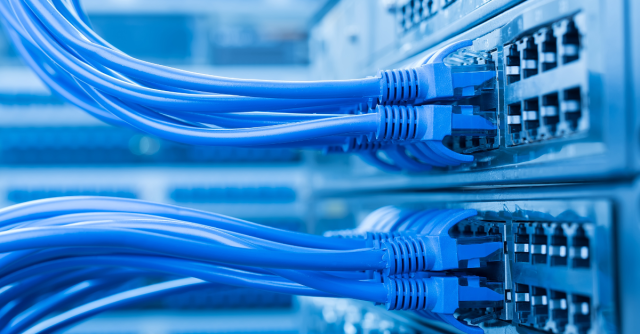 What are cross connects?
Cross connects provide the building blocks of interconnection for any data center ecosystem. They enable direct, secure access to carriers, content providers, service providers, and other partners physically co-located within a data center or data center campus. A cross connect is a physical, passive, and unlit connection between two entities within Flexential facilities.
From an Open Systems Interconnection (OSI) Model perspective, cross connects are Layer 1 constructs comprised of predominantly fiber and optical signals. Cross connects enable businesses to establish connections with network providers for streamlined content distribution, data exchange, cloud application deployment, and interconnecting various points of presence within a data center to optimize latency.
The importance of cross connects
Utilizing cross connects on the Flexential platform can help optimize networking costs and help simplify connectivity as the digital landscape becomes increasingly more complex. Even with cross connects at the base of the connectivity pyramid, they provide flexibility and characteristics that are difficult to emulate with other forms of virtualized connectivity (Layer 2 and Layer 3). Aside from direct access to those you are connecting with, cross connects offer the following benefits:
Low latency—Faster data transmission
Secure—Private connection between two parties
High performance—Greater throughput, unmetered connections
Reliability—High availability and fault tolerance
Facilitating cross connects
Now that we've established a cross connect is a physical, direct connection between two entities in a data center, let's unpack how to facilitate this type of connection. Flexential considers a cross connect to have an initiator and a receiver, which is most commonly represented as an "A-side" (initiator) and a "Z-side" (receiver). Since these sides are two legal entities, an agreement is needed for the connection to occur; this is known as a Letter of Authorization (LOA). The Z-side party produces this document and specifies their authorization and where to terminate the connection on their infrastructure in the data center. This termination point is a demarcation point inside a cage or cabinet, typically a patch panel.
The cross connect itself can be of varying media types. Flexential supports the industrywide standard single-mode fiber (SMF) but also accommodates copper and multi-mode fiber (MMF) if specific criteria are met. Given the ubiquitous nature of optical networking equipment in recent years and more precise single transmission of longer distances, single-mode fiber is the defacto industry standard.
In summary, the following components are needed to facilitate a cross connect in a data center:
A-side entity (initiator)
Z-side entity (receiver)
Letter of Authorization (LOA)
Physical Media Type (SMF, MMF, UTP)
The Flexential cross connect portfolio
Flexential offers a comprehensive approach to facilitate cross connects across our platform, optimizing network performance. With 41 data center footprints across 19 metros, Flexential hosts more than 370 connectivity provider Point of Presence (POP) that can be accessed via cross connect within our data centers. Cross connects can be ordered via our Flexential Customer Portal (FXP), which provides self-service functionality and faster lead times.
Here's a list of the various cross connect product types:
Cross connect—Directly connects customers to other entities within the same data center.
Campus cross connect—Connects customers to other entities in a different data center. (proximity = ~ >10 km)
Carrier cross connect—Directly connects customers to carriers within the same data center utilizing a meet-me-room (MMR)
Data center cross connect—Enables customers to connect to non-contiguous deployments in the same data center. Note this must be on the same floor as their existing deployment and the same billing entity.
Conclusion
Flexential cross connects help underpin the digital world and provide direct access to providers and partners in a data center. Without cross connects, we could not scale interconnection ecosystems to what they are today. A magnitude of network service providers, content delivery providers, and partners can be accessed on the FlexAnywhere platform via direct cross connects or virtual connectivity. By incorporating cross connects into a connectivity model, you can reduce latency, improve security, and increase reliability while reducing network complexity and cost.
Learn more about cross-connects in Flexential Data Centers and how our customers enjoy the numerous advantages of low latency, reliable, secure, and cost-effective connectivity.
Enjoying our blog? Get the latest news and articles delivered straight to your inbox.