PRODUCTS AND SERVICES
Products and services for hybrid IT needs of all sizes
Colocation, Interconnection, Cloud, Data Protection, Professional Services, and more. Explore our suite of services to solve your most pressing IT puzzles and business opportunities.
KEY Benefits
Turnkey services with commercial flexibility
When you're ready to onboard or expand, the FlexAnywhere platform supports seamless scaling of environments, new services, and infrastructure. And you're free to shift spend to support what's needed today and in the future.
Easily scale where you need it
41 data centers, 19 high-growth domestic markets, and 370+ on-net carriers. International subsea cable pathways to get hybrid IT coverage where it's needed.
Flexible infrastructure options built to integrate
An interoperable catalog of data protection and managed and professional services on top of one-size-fits-one colocation, cloud, and interconnection options.
Secure, always-on connections to all ecosystems
A 100 Gbps network backbone scalable to 400 Gbps, with Cloud Fabric, Cross Connects, and tailored interconnection services for hybrid environments of all complexities.

"Flexential ensures the availability and performance of our environment, so I can focus on business and IT strategies that help us better serve our customers."

"Our software allows customers to operate their businesses the way they want. Flexential cloud infrastructure enables our platform, and the expertise of its internal team delivers strategic technical support when needed."

"Flexential operates reliable data centers across the country that allow us to position our infrastructure close to our customers so we can activate medical teams quickly."

"It is critical that our technology provides the payment and reconciliation services that our customers demand 24x7x365. With Flexential, we do not have material service disruptions."
revenue from reduced downtime
administration efficiency gains
reduced infrastructure spend
our Products & Services
Enabling your hybrid IT journey, one service at a time
Colocation, interconnection, cloud, data protection, and professional services. We love solving unique hybrid IT needs with customized products and lean-agile methodologies to reduce spend.
The FlexAnywhere™ Platform
FlexAnywhere™: Hybrid IT flexibility without compromise
The highly connected FlexAnywhere Platform delivers tailored infrastructure capabilities with automation, a pay-as-you-go model, and scalability for your business needs.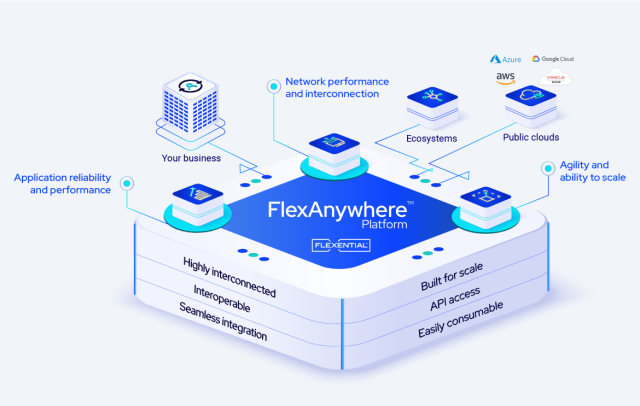 what our customers say
The industry standard for hybrid IT flexibility