Back to All Blogs
How to manage complex hybrid infrastructures
If you're wondering about the state of complex hybrid infrastructures, know this: the global hybrid cloud market hit $71.2 billion in 2021. And it's expected to reach an 18.4% CAGR (compound annual growth rate) through 2030, according to Emergen Research.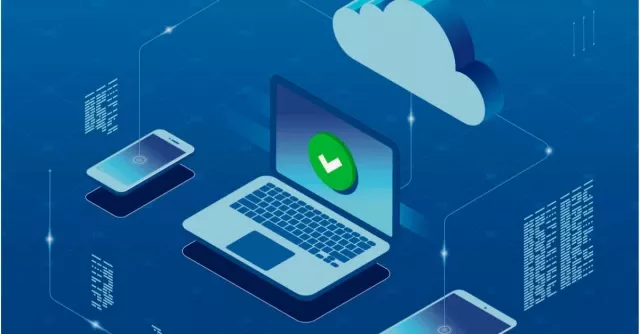 As the hybrid cloud market hits light-speed growth, the conventional data center outsourcing market is shrinking, as well, according to Mordor Intelligence.
What does this mean? Organizations increasingly rely on hybrid IT infrastructures to handle growing data sets, processing demands, and consumer expectations. That means a growing need for smart hybrid IT development and management.
Are you prepared for the growth of the complex hybrid infrastructure market? Need help determining what comprises hybrid infrastructures in the first place? Learn why the world relies on hybrid infrastructures for business, interconnection, and data-sharing success.
What are complex hybrid infrastructures?
Instead of relying solely on a public cloud, private cloud, or on-premises infrastructure (like a data center), a complex hybrid infrastructure is an IT design and environment of on-premises data centers, public clouds, and colocation or hosted private clouds.
Think of going hybrid as removing all your data, service, platform, and digital application "eggs" from one basket and distributing them. That single basket can be useful. But you lose functionality, scalability, and time to market with something so limited and rigid.
First things first — the building blocks of a hybrid IT environment can include:
An on-premises data center — a group of networked servers living in a building close to where the data and applications are used. Made up of routers, switches, servers, firewalls, and storage systems.
Typically, only the owning organization can access the data and hardware. But centers are expensive to install, difficult to scale, and eventually need refreshes due to aging architectures.
A public cloud — owned and operated by an off-site third party and normally accessed from a web browser. Public clouds are low-cost, easy to access, and require minimal maintenance–it's all handled by the cloud provider.
But you generally lose out on additional security and a lack of specialized access features.
Colocation / Hosted private cloud — owned and operated by an off-site third party but accessible only to the paying business. Great for government agencies, financial institutions, and healthcare networks that work with highly sensitive data but need additional scalability.
But like on-premises data centers, colocation or hosted private clouds can be more expensive than public cloud alternatives.
There are pros and cons to each platform. This is why complex hybrid infrastructures — which combine the benefits of each platform while mitigating each downside — have become the solution of choice for smart and flexible IT environments.
Benefits of complex hybrid infrastructures
Effectively combining the elements of on-premises data centers, public clouds, colocation, and hosted private clouds sounds complex. And it can be (more on that below). But here's what you get from a well-managed hybrid IT strategy and infrastructure.
1. Better scalability
As market demands shift and usage seasons begin and end, IT demand fluctuates. An on-premises data center alone isn't built to scale quickly or cost-effectively.
But a complex hybrid infrastructure can boost and reprovision its cloud usage as needed — whether it's processing power, bandwidth, or storage. All without the need for additional hardware setups.
2. Cost savings
Very few IT-reliant organizations operate on public cloud options alone. But a business run on private data centers or hosted clouds alone can feature a worrying price tag.
The good news is that, even for companies that deal with highly sensitive data or applications, their IT infrastructure doesn't need to be solely private. Non-mission critical components and resources can be hosted on a public cloud infrastructure while still informing the mission-critical processes behind digital lock and key.
This ensures security for the data, applications, and servers that need it most, with the scalability and cost savings of public cloud support.
3. Cloud bursting (and improved performance)
The cloud components of a hybrid infrastructure also help performance demands, sometimes called "cloud bursting." This is when on-premises resources reach peak capacity and need extra workload during spikes. It's especially helpful for organizations that experience varying demand patterns or seasons of hot and cold infrastructure usage.
Hybrid infrastructures can also improve response times and reduce latency by caching (storing frequently accessed data closer to its application), hybrid networking (using a
VPN or direct connect service between on-prem and cloud environments), and automation (provisioning and deployment of resources and remediation of issues).
4. Added flexibility
Are scalability and flexibility the same thing? Not quite. Scaling refers to the changing amounts of workload or data needed from a system; flexibility means its ability to adapt to changing business requirements or new technologies. Hybrid IT infrastructures excel at leveraging services like serverless computing, containers, and managed databases to deploy new applications.
And integration is easier, too: a unified view of an organization's IT environment is provided across a landscape of different systems, applications, and data sources. As workforces have grown increasingly hybrid, and remote work options flourish, integration is a top-level concern for IT-intensive companies.
5. Balanced accessibility and security
It's true that public cloud options offer better scalability and flexibility without the security bells and whistles that private options provide. Which would mean that complex hybrid infrastructures that feature public clouds are more vulnerable too, right?
Not necessarily. Encryption protocols, multi-factor authentication, and network segmentation can enhance a company's security posture without sacrificing the accessibility and flexibility of public cloud components.
Even the most security-minded industries–healthcare, finance, and government–use public cloud flexibility as part of their complex hybrid infrastructure. It's about designing a data ecosystem that knows what needs to be encrypted and what doesn't. Thus, a balance is reached between business growth and security.
The complexities of hybrid IT
Organizations are meeting the growing demands of a vastly interconnected world with complex hybrid infrastructures. By combining the elements of on-premises data centers, colocation, public clouds, and hosted private clouds, businesses can achieve better scalability, performance, and flexibility.
But hybrid infrastructures can also be incredibly complex, especially for companies growing fast and without an already established comprehensive IT network.
Consider the following elements to assess your ability to implement a hybrid infrastructure:
Are development and operations siloed or integrated?
Are security and management separate or mixed?
Do you plan to segment your application groups with separate domains?
You might not have the answers to these questions–or even know what the right answer is.
(Hint: it's 1. Integrated, 2. Separate, and 3. Yes!)
Flexential manages complex hybrid infrastructures
To create a hybrid IT solution that fits your needs today and flexes to accommodate future opportunities, Flexential cloud computing experts can dig deep to understand your specific requirements, then design, build, and deliver a hybrid solution to enable your business's long-term success.
We've been helping data-centric organizations across industries for 20 years and boast an average 48% ROI, 90% reduced application downtime, and $2.1 million net present value for our clients.
Talk with Flexential today.
Enjoying our blog? Get the latest news and articles delivered straight to your inbox.