Back to All Blogs
Flexential shared values in action
To say we are proud of our commitment to promoting and enabling diversity, equity, inclusion, and belonging within Flexential is an understatement. While our work in this space has been present since the inception of Flexential, the intentional formalization of our DEIB@Flexential program in 2020 has propelled us on a journey of learning, awareness, and celebration.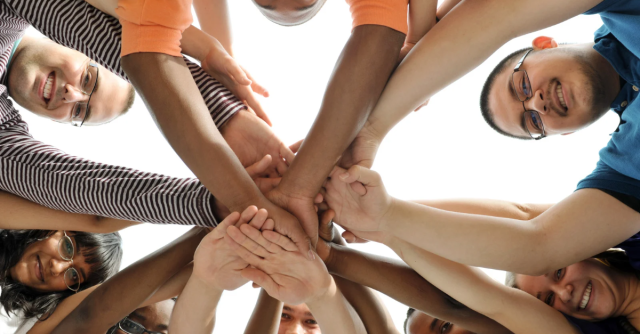 The month of April marks two years since our CEO, Chris Downie, deepened our commitment by signing the CEO Action Pledge to "build greater understanding and create workplaces and communities that better reflect the diversity of our society." As we celebrate this anniversary, we reflect and recommit to our DEIB values with renewed purpose and energy.
When we say the mission of DEIB@Flexential is to "accelerate our people's flourishing through boldly fostering a welcoming, inclusive, and safe culture where every voice is essential, and every person belongs," we mean it. We believe that each person has a unique voice that is integral to the employee and customer experience, and to value anything less would cause our company to lack a vital piece of culture. We recognize, however, that for the most voices to be expressed, it is crucial to cultivate an atmosphere of safety and trust — an atmosphere where honest feedback and sharing are welcomed and valued.
In addition to managerial open-door policies, our DEIB Council facilitates two pulse surveys per year. Our data-driven DEIB Survey measures our employees' sense of belonging within the framework of company equity, inclusive leadership, experiences of coworker diversity, and unconscious bias. The Flex Your Voice Survey invites the sharing of personal interests, cultural backgrounds and celebrations, and suggestions for further DEIB development opportunities. Both surveys encourage candid responses to evaluate our recent efforts and determine our next steps. With an emphasis on employee voice, it's no wonder that an element that drew us to align with CEO Action was the pledge to "cultivate environments that support open dialogue on complex - and often difficult - conversations around diversity, equity, and inclusion."
We firmly believe that we flourish when we can show up as our whole selves and that DEIB@Flexential exists to help us be, grow, and Flex who we are. It might be a catchy saying, but we truly mean it. When you're at Flexential, you are in a workplace where your authentic uniqueness is valued, desired, and supported. Whatever makes up you — whether it's similar or different from anyone else — can contribute to our success as a people and as a company. Here we want to empower you to flex your strengths, energize your weaknesses, grow from your mistakes, and build on your background. When we invite you to come as your Whole Self and Flex Who You Are, we are inviting you to show up as the unique individual you are, including your personality, race, gender, opinions, age, preferences, background, abilities, interests, beliefs, thoughts, skills, status, orientations, language, and commitments, despite real or felt barriers that might typically cause you to hold back, while continuously cultivating and maintaining an environment that is welcoming, inclusive, and safe for everyone.
A tangible way we pursue this value is through the implementation of our Employee Resource Groups (ERGs). We currently host four unique and vibrant ERGs that focus on an area of life where our people have expressed the need for support, education, and recognition. These groups offer resources and programming both to their members and to the company at large so that everyone can flex who they uniquely are with the confidence of acceptance and encouragement.
Just as important as what we practice around DEIB is why we practice it. Our why is that when diversity, equity, and inclusion are how we do business, everyone belongs.  As we partner with our customers to empower their IT journey, we invest in our employees to empower their journey as whole humans who flourish in the tech world.
As we continue to pursue whole-human flourishing in 2023 and beyond, we are excited that DEIB is the top reason employees at Flexential recommend us as a great place to work. Our company values of Committed, Caring, and Competitive drive us to take action and cultivate a workplace that is welcoming, safe, and inclusive — for all.
Enjoying our blog? Get the latest news and articles delivered straight to your inbox.