Back to All Blogs
What to know about Philadelphia data centers
Philadelphia, a city rich in history and culture, is now emerging as a tech and business hub on the East Coast. One of the key driving forces behind this transformation is the growth of data centers in the region.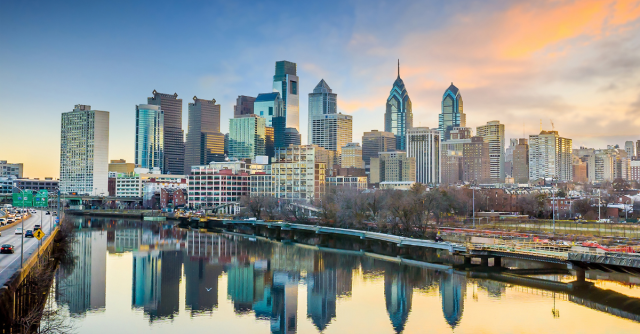 Philadelphia, a city rich in history and culture, is now emerging as a tech and business hub on the East Coast. One of the key driving forces behind this transformation is the growth of data centers in the region. In this article, we explore the economic impact, environmental effects, and strategic advantages of opting for Philadelphia data centers. We'll also look at the advanced technologies and capabilities available in these data centers, making Philadelphia an increasingly attractive choice for organizations.
Why are data centers important to Philadelphia and the East Coast?
Being situated in the heart of the East Coast, Philadelphia serves as a critical business and technology gateway, and data centers play a pivotal role in the region's growth and development. Let's review a few of the various aspects that make these data centers essential. 
Economic impact
Data centers are not just technological powerhouses; they are economic drivers. These facilities create job opportunities, boost local businesses, and contribute to the overall prosperity of the community. And as the demand for data center services grows, so does the need for skilled professionals in the tech industry. This influx of talent strengthens the local job market for all sectors.
These centers also require other providers for an extensive array of services, from construction and maintenance to equipment procurement and security. Local businesses benefit from these contracts, helping to stimulate the economy.
Environmental effects
While data centers are power-hungry operations, there's a growing emphasis on sustainability and energy efficiency within the industry. Philadelphia data centers are no exception. Many companies using these facilities prioritize sustainability by using energy-efficient technologies, reducing their carbon footprint, and implementing eco-friendly practices (such as data center cooling).
As a result, Philadelphia data centers can have a positive impact on the environment. By opting for regional data centers, businesses align themselves with a commitment to reducing the environmental footprint of their IT infrastructure. Explore our list of data center best practices here.
Why do businesses/organizations choose colocation data centers in Philadelphia? 
Businesses choose Philadelphia colocation data centers for many reasons, including a strategic location, access to a robust tech workforce, reliable energy sources, a significant network hub, and cost-effectiveness.
Strategic location
One of the primary reasons businesses opt for Philadelphia data centers is their strategic location. Situated on the East Coast, the city is within a short distance of major metropolitan areas like NYC, Washington, D.C., and Boston, making it an ideal location for businesses seeking to expand their reach. Philadelphia serves as a centralized hub, connecting organizations with their clients efficiently. Philadelphia also offers comparable network performance with low latency results at a lower cost than its neighboring markets.
Available tech workforce
Access to a highly skilled workforce is a critical consideration for any business. As a thriving hub for innovation and technology, Philadelphia boasts a deep pool of talented professionals. This wealth of tech expertise is one of the compelling reasons why organizations opt for Philadelphia as the destination for their data center needs. Proximity to leading educational institutions like the University of Pennsylvania, Drexel University, and Temple University ensures a steady influx of top-tier graduates skilled in various disciplines to foster innovation and provide a collaborative spirit within the city's tech community.
Robust and reliable energy sources
A reliable energy supply is critical for businesses that cannot afford interruptions in their services, and one of the primary factors contributing to the reliability of energy sources in Philadelphia is the city's well-established and stable energy infrastructure. The region's electrical grid is designed to withstand various challenges, such as extreme weather events, ensuring continuous power supply even under adverse conditions. This resilience is a significant advantage for data centers that must remain operational 24/7, 365 days a year.
This consistency is vital for businesses hosting their critical IT infrastructure in these facilities. It ensures that servers, networking equipment, and other essential components are always powered, reducing the risk of service interruptions that could result in financial losses and damage to a company's reputation. 
Significant network hub
The proximity to essential network services and infrastructure can be a game-changer for businesses relying on data centers to manage their critical operations. Strategically positioned on the East Coast, Philadelphia stands out as a significant network hub, offering direct access to major data exchange points and internet connectivity providers. Choosing a Philadelphia data center means plugging into this dynamic network ecosystem, guaranteeing fast, secure, and reliable data transmission.
Cost-effectiveness
In addition to its strategic location and robust infrastructure, Philadelphia's retail and wholesale data centers offer cost-effective solutions compared to other major East Coast cities. They provide state-of-the-art facilities, skilled professionals, and comprehensive IT infrastructure management while maintaining competitive pricing. Businesses can enjoy top-tier services without breaking their budgets.
Availability of advanced tech in Philadelphia data centers
Philadelphia data centers are at the forefront of technological advancement, offering customers a range of advanced capabilities and services that cater to the ever-evolving needs of businesses, including:
AI in data centers
Artificial intelligence (AI) and machine learning are being integrated into Philadelphia data centers, equipping them with AI-driven solutions that enhance operations, automate tasks, and improve energy efficiency. AI also plays a pivotal role in predictive maintenance and disaster recovery, ensuring data centers run smoothly with minimal downtime.
Advanced and reliable cloud computing
Cloud computing is the backbone of modern businesses, and Philadelphia data centers provide cutting-edge cloud services that encourage organizations to harness the power of the cloud for scalability, flexibility, and cost-efficiency. With advanced cloud solutions, businesses can seamlessly adapt to evolving demands.
Colocation data centers in the Philadelphia and East Coast area
Colocation data centers in Philadelphia offer flexibility, scalability, connectivity, and reliability. Businesses can co-locate their servers, networking equipment, and storage devices in these facilities. This approach reduces the costs of building and maintaining an in-house data center, making it an attractive choice for small and large enterprises.
Collegeville data centers
For those considering data center services in the Philadelphia area, the Flexential Collegeville Data Center is an excellent choice. Located just outside the city, it offers users a strategic location with secure, reliable colocation and high-performance cloud connectivity across the northeastern US. Our private 100 Gbps backbone improves response times and reduces single points of failure on the network while backed by a 100% commitment to satisfaction. Explore all the available services we offer by reading more about our Philadelphia - Collegeville Data Center here.
If you'd like to take a virtual tour of the Collegeville Data Center, you can watch our Virtual Tour of the Collegeville Data Center located in Philadelphia, PA.
With their economic impact, environmental responsibility, and technological advancements, Philadelphia data centers are setting the standard for the future of data center management on the East Coast. To learn more about Collegeville Data Center and how Flexential helps companies solve complex infrastructure requirements with colocation and cloud solutions tailored to meet evolving needs, visit our Flexential data centers page.
Schedule an onsite tour at Collegeville Data Center today!
Enjoying our blog? Get the latest news and articles delivered straight to your inbox.